Today should be exciting, it's a BIG GAME DAY, bigger, than say, a normal GAME DAY 😉  Here's why:
By Abpriddy  @abpriddy on Oct 4 2014, 7:00a
"It was rock bottom. Before a smattering of fans inside a field ringed by a running track, the West Virginia Mountaineers put for the their most embarrassing performance in recent memory, losing to the Kansas Jayhawks and handing coach Charlie Weis what would be his only Big 12 win. The memories of that putrid performance still linger near the surface for this Mountaineer team and the disgust is palpable every time coach Dana Holgorsen is forced to hold his nose and speak of the unspeakable.

Atonement begins in earnest now."
I can't wait. I'm going to go watch with some friends later.
Even more fun? Last night on the news (can't find a link:( ) I heard WVU fans used the 3rd HIGHEST amount of DATA in the NATION last week, beating NFL usage per team. THAT'S some team spirit! The cell towers can't keep up 😀
Happy Saturday EVERYONE!
And for those out there on a special ride today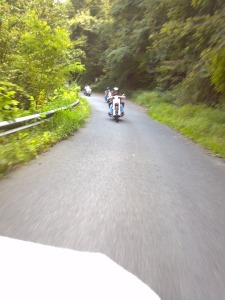 Have a safe and fun ride!